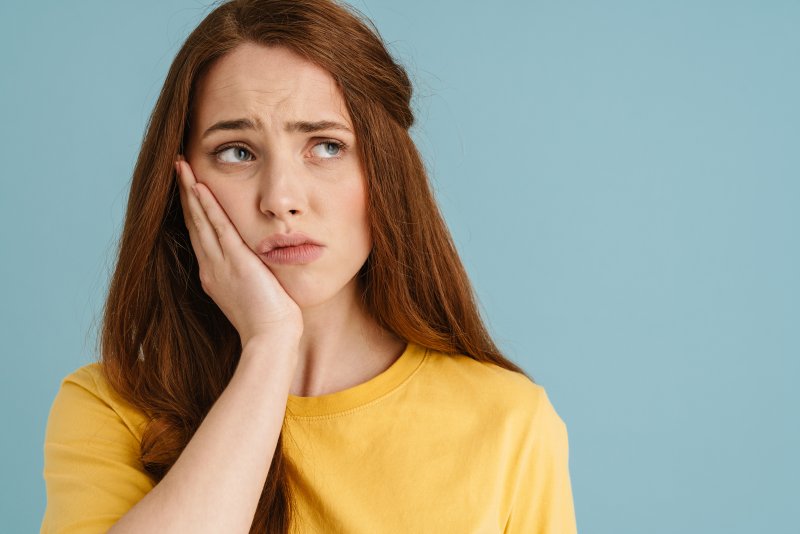 It's never very reassuring when your joints start popping. Everyone has heard their knees pop as they stand up, but they may be a little less familiar with the feeling of their jaw doing the same thing as they chew.
If you've started to notice this happening, you may wonder whether it's something that you should be concerned about. The answer depends on several factors. Here's what you should know.
What Causes Jaw Popping?
The joint actually making the noise when your jaw pops is the temporomandibular joint, also known as the TMJ. It's typically a sign of wear to the joint, though in mild cases this isn't usually a cause for concern. You can cause wear to the TMJ by:
Chewing gum
Grinding your teeth
Habitually clenching your jaw
Biting your lip or cheek
When is Jaw Popping a Problem?
As with other joints, your jaw popping occasionally really isn't all that much to be concerned about on its own. While it might not be the most pleasant feeling, it's not necessarily the case that you have to see a dentist about it.
However, if the jaw popping is associated with a fair amount of pain, that could be a sign of something more serious going on. In this case, you may want to bring your jaw problems to the attention of your dentist. You may have a TMJ disorder.
What Is a TMJ Disorder?
The TMJ are responsible for holding the entirety of the jaw in place, but the joints themselves are fairly small. All this pressure can occasionally lead the joints to become misaligned, leading to what's known as a TMJ Disorder, or TMJD.
TMJD can be a little bit tricky to diagnose due to its variety of symptoms, many of which have seemingly nothing to do with the jaw. Jaw popping, jaw pain, and teeth grinding can all be indicative of a TMJD, as can nausea or vertigo. If you're dealing with some, or all, of these symptoms, your dentist may be able to outfit you with an oral appliance to correct your bite.
About the Author
Dr. Carol Morgan believes very deeply in the power of dentistry, which is why she and the other members of her team value staying on top of their field so highly. Dr. Morgan received her dental degree and her certificate in Advanced General Dentistry from the Medical College of Virginia (MCV) School of Dentistry. She is currently a member of the American Academy of Cosmetic Dentistry and a fellow of the Las Vegas Institute (LVI) for Advanced Dental Studies.
If you have any questions about jaw pain, we can be reached at our website or by phone at (757) 412-1400.