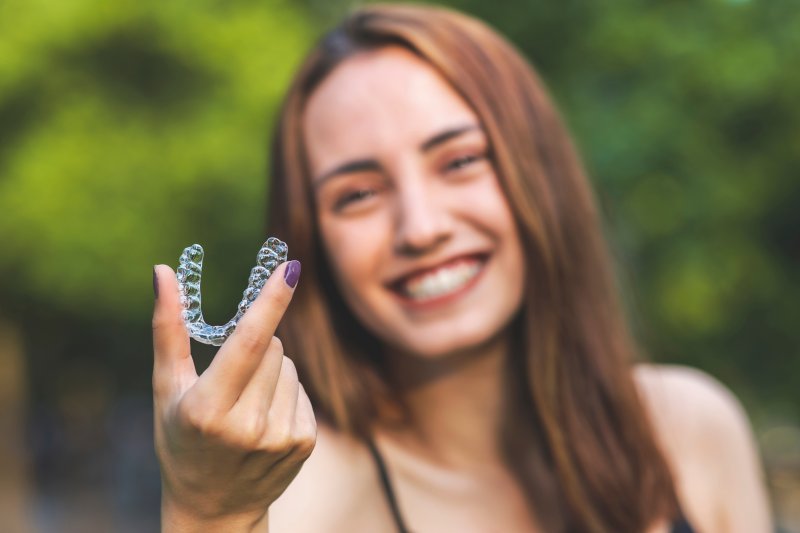 As an orthodontic treatment, Invisalign is known for being subtle. Its plastic aligners can straighten teeth without drawing undue attention. Still, that fact only applies when the trays are well-maintained. If they aren't, there's a good chance you'll find your clear aligners turning yellow. Luckily, your Virginia Beach dentist can help you avoid this issue. To that end, here's a summary of what causes yellow aligners and some tips for fixing the problem.
What Causes Yellow Aligners?
In fact, several things can discolor aligners over time. The most common of these factors are the following:
Foods & Drinks
Before treatment, a dentist will tell you not to wear clear aligners during meals. This rule exists partly because foods and drinks can stain aligners.
In reality, certain products contain so-called "stain agents" – materials that discolor teeth and oral appliances. For example, coffee, wine, and red tea have tannins, which help pigments stick to enamel (and thus your trays). Similarly, berries, tomato-based sauces, mustard, and candy can also stain your trays.
Your Saliva
While having saliva in your mouth is vital to oral health, the liquid can discolor your trays if you aren't careful.
Unfortunately, you see, dried saliva has a color. Proteins, minerals, and other substances turn it yellow in that scenario. If saliva dries on your trays, then, it could make the aligners darker.
Bacteria & Plaque
No matter how well you brush or floss, there's always some bacteria and plaque on your teeth. Sadly, these things can stain aligners too.
This risk is incredibly high if you don't practice good oral care. Should that happen, a thick layer of bacteria-filled plaque will likely transfer to your trays. From there, the aligners will turn yellow.
How Can You Fix the Problem?
Of course, it's possible to prevent and even reverse yellow aligners. You simply need to use these oral tips:
Clean the Aligners Well – When you remove the aligners, rinse them with water or give them a quick brush. If you're brushing, use a soft-bristled toothbrush and non-staining toothpaste.
Remove Trays for Meals – Remove your trays before eating or drinking. The only exception is room-temperature water, which won't harm the aligners.
Store the Aligners Properly – Store your trays in the proper case when you aren't wearing them. That way, they won't come into contact with bacteria.
Switch to New Trays Early – To avoid wearing yellow aligners, ask your dentist about switching to a new set of trays.
So long as you employ these habits, you won't have to deal with clear aligners turning yellow. That being said, go ahead and put them to use!
About the Author
Dr. Carol Morgan is a dentist based in Virginia Beach, VA, having earned her DDS from the Medical College of Virginia (MCV) School of Dentistry. She's also a member of the American Academy of Cosmetic Dentistry and the International Association of Orthodontics. Her specialties are general and cosmetic dental treatments, as well as TMJ and sleep apnea therapies. Dr. Morgan currently practices at Hampton Roads Center for Cosmetic Dentistry and is reachable on her website and by phone at (757)-412-1400.