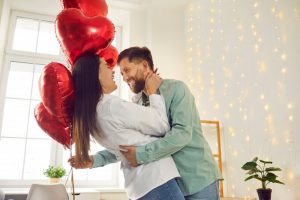 When dating, people often start with their appearance to become appealing to others. However, this should involve more than just being physically fit, getting a new haircut, or wearing the latest fashions. Your smile is just as essential when it comes to finding a significant other. According to a DentaVox survey, 68% of respondents stopped dating their partner because of their bad teeth or breath. And unfortunately, only 22% of respondents realized their partner might have broken up with them for that same reason. Here's more about the link between dating and your dental health…and how to ensure you get that second date!
The Connection Between Dating and Dental Health
So, you have a Valentine's Day date coming up that you are so excited about. Most people begin to do all they can to make sure to present the best version of themselves, like getting their nails done, washing the car, or buying a new outfit. Would you be surprised to find out that most people don't think these things are the most important in desiring someone?
In a Match.com survey of over 5,000 people, 58% of men and 71% of women said that a good smile is the biggest "must-have" in a partner. The research showed that your pearly whites make more of an impact on someone than your hair, nails, car, or shoes. One of the researchers for this survey believes the underlying reason for this is that teeth are a sign of good health and can help people determine how much someone takes care of themselves, whether positively or negatively. Looks like your smile does more than just let someone know you are happy!
How to Get that Second Date with Your Smile
The good news is that there are things you can do to get your smile "date-ready". Here are some helpful tips on how to get your pearly whites to shine for the first date (and ensure you get the second one!):
Brushing & Flossing: One of the most essential ways to maintain—and improve your grin is by brushing twice a day and flossing daily. Not only will you be ridding your mouth of harmful debris and bacteria, but you'll also prevent cavities and gum disease from ruining your oral health.
Professional Teeth Whitening: While there are many store-bought whitening solutions, you are guaranteed to get the best and most long-lasting results with a professional-grade solution. Your dentist can either do an in-office teeth whitening treatment for an instantly brighter smile or send you home with customized trays to do it at home for whiter teeth within a couple of weeks.
Cosmetic Dental Treatments: If you are unhappy with certain dental flaws that can't be addressed by routine oral health care routines, you can consider cosmetic dentistry. Options like dental bonding and porcelain veneers can instantly transform your smile by restoring misshapen, cracked, or broken teeth. Your smile will be picture-perfect for your future dates!
Many things can open the door to connecting to that special someone, including your teeth! By caring for your dental health, your smile is sure to be bright and healthy, leaving you ready for your next dating adventure.
About the Author
Dr. Carol Morgan and her team at Hampton Roads Center for Cosmetic Dentistry are eager to help you achieve your most beautiful and healthy smile. She graduated Magna Cum Laude from the Medical College of Virginia School of Dentistry and is an active member of the American Academy of Cosmetic Dentistry. By using customized plans and advanced dental technology, she can help you get your teeth in their best condition. To schedule a consultation, contact her through her website or call  (757) 412-1400.