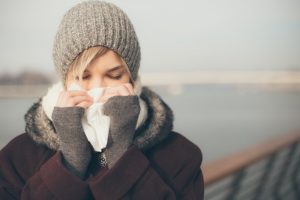 Invisalign has become a popular treatment to get the smile of your dreams! With its clear removable trays, it offers a discreet and convenient way to straighten and align your teeth. However, the ability to take out the clear trays can expose you to more germs and bacteria during the flu and cold season. Here are five tips to help keep you healthy while wearing Invisalign during the colder months!
Tip #1: Make Handwashing a Priority
It goes without saying that keeping your hands clean is important all year long. However, it's especially vital during a time when illnesses are more prevalent. Since you put your hands in your mouth to remove your aligners anytime you eat or drink anything other than water, you can be exposed to germs more than average. Therefore, be sure to thoroughly wash your hands with soap and clean water for a full 20 seconds before and after removing your aligners and periodically throughout the day.
Tip #2: Stay Hydrated
Drinking enough water can help fight seasonal sicknesses. It is also essential so your mouth doesn't become dry. When you're sick and have a stuffy nose, you tend to breathe more through your mouth. How does this affect your oral health? Saliva washes away harmful bacteria that can lead to cavities; a dry mouth increases your chances of tooth decay, which could delay Invisalign treatment when it needs to be treated.
Tip #3: Maintain Good Oral Hygiene
It can be easy to neglect your oral routine when you are sick and low on energy. However, it's critical to remain diligent in brushing your teeth twice a day and flossing daily– even when you're feeling under the weather. It's the best way to keep your smile in optimal condition and the Invisalign plan on track!
Tip #4: Keep Personal Areas Clean
If you work at a desk, on a computer, or handle equipment throughout the day, be sure to sanitize these areas thoroughly on a regular basis. Personal spaces and devices can give a false sense of security, making people think they can't get sick since it's their own germs. But illnesses spread easily, so disinfecting your areas is essential. In addition, make sure you store your aligners in their designated retainer case anytime they are removed. Not only will it protect them from germs, but you're less likely to misplace them or accidentally toss them out.
Tip #5: Be Prepared with Extra Necessities
When you are undergoing Invisalign treatment, you probably already have numerous oral care accessories that you carry with you daily. In preparation for cold and flu season, be sure to get extra essentials like hand sanitizer, sanitizing wipes, and lip balms. These added reinforcements will give more protection to not only maintain your oral health but overall well-being.
You can keep your Invisalign treatment on track even during the flu and cold season by being mindful of these helpful tips!
About the Author
Dr. Carol Morgan and her team at Hampton Roads Center for Cosmetic Dentistry serve Virginia Beach and the surrounding areas. She graduated Magna Cum Laude from the Medical College of Virginia School of Dentistry and is an active member of the American Academy of Cosmetic Dentistry. By providing customized plans for Invisalign and using advanced dental technology, she can help you achieve the smile of your dreams all throughout the year! To schedule an appointment, contact her through her website or call (757) 412-1400.