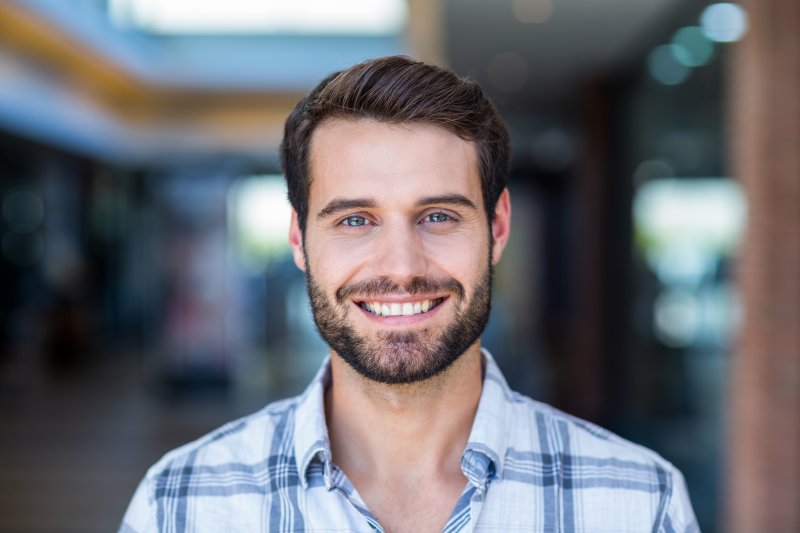 Having a lovely smile is something to aspire to for many people. A nice set of pearly whites makes you seem friendly, more confident, and more capable. Many of these things make it easier to progress in work or your personal life, so it makes sense that many people are interested in improving the look of their smile. If you're one of those people, read on to learn about five traits of a beautiful smile.
Trait #1: Bright, White Teeth
Having bright, white, and beautiful teeth is one of the first things that comes to mind when people think of what makes a smile look lovely. Unfortunately, things like consuming dark or highly pigmented foods and drinks, smoking, certain medicines, and improper oral hygiene can cause your smile to become yellow over time.
Along with cutting back on these things where possible, there are several other ways that you can brighten your smile. In-office whitening lets you improve the look of your smile by up to 10 shades in just one visit. Take-home kits feature custom trays and whitening gel that give you a gorgeous grin in just two weeks. Some dentists also offer professional whitening pens. Veneers and cosmetic bonding are also good options for people who don't react well to whitening or don't see any success using it.
Trait #2: No Chips or Cracks
Chips and cracks can give your smile an unhealthy look, but dental bonding can help. Your dentist shaped the resin to cover the chipped area and even out your smile. Veneers can also be used to cover chips and cracks. For more severe damage, dental crowns can cover the entire visible part of the tooth. Some dentists also offer porcelain onlays, which are somewhere between veneers and bonding.
Trait #3: An Even Smile Arc
A smile arc refers to how the biting edges of a person's upper teeth flow with the curve of their lower lip. Ideally, your smile arc will be a slight upward curve that becomes narrower at the ends. A misaligned smile arc can often be fixed using orthodontics, so speak to your dentist to learn about your options.
Trait #4: A Healthy Gum Color
Healthy gums are usually pink and are a good indication that you're properly caring for your smile. If you don't take good care of your smile, your gums may become inflamed and red. This is often a sign of an infection called gum disease. Speak to your dentist if you notice any gum abnormalities so they can administer gum disease treatment before it gets any worse.
Trait #5: Evenly Spaced Teeth
Gapped teeth are another thing that can seriously impact the overall look of your smile. Odd spacing between teeth can also make them harder to clean, which can make your teeth more likely to decay. Invisalign can close the gaps between your teeth and make them easier to clean. Bonding and veneers can also lessen the appearance of small gaps.
If you want help with achieving any of the above traits of a beautiful smile, reach out to your dentist. They can help you decide which cosmetic procedures you need to achieve the smile of your dreams!
About the Author
Hampton Roads Center for Cosmetic Dentistry is led by Dr. Carol F. Morgan, a passionate dentist who takes pride in helping her patients maintain beautiful, healthy beams. She can teach you about the different traits or a beautiful smile to help you get the grin you want. To make an appointment with Hampton Roads Center for Cosmetic Dentistry or for more information on their services, call their office at (757) 412-1400 or visit their website.