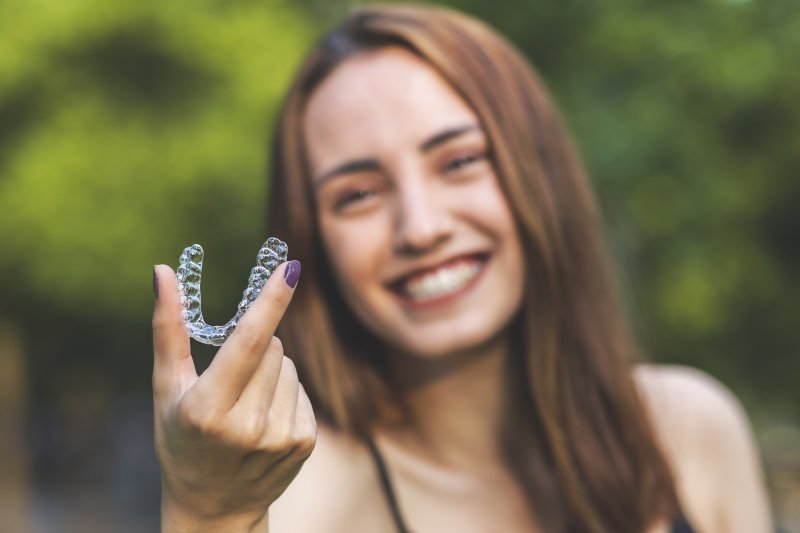 Are you self-conscious about the appearance of your smile? Have you always wanted to correct your alignment but did not want to undergo everything that comes with traditional metal braces? Fortunately, there is another option out there. Invisalign can correct a variety of different types of misalignment and is practically invisible. Continue reading to learn more about Invisalign and the different ways it can benefit you!
Invisalign Is Comfortable
Invisalign aligners are made of smooth plastic. This makes wearing them much more comfortable than regular metal braces that use brackets and wires. There are not any sharp edges, and they use less pressure to move your smile into place.
Invisalign Is Removable
It can be difficult to clean your teeth when you need to work around metal braces. Since you can take your Invisalign trays out, you will be able to clean the hard-to-reach places much more easily. However, it's important that you put them back in your mouth promptly. If you leave them out too long, you can interrupt and prolong your treatment.
No Food Restrictions
When getting traditional metal braces your dentist will likely give you a list of foods to avoid until after you complete the treatment. If you don't think you can handle the food restrictions of braces, Invisalign may be for you! Since you take your trays out when you eat, you can prepare your favorite meals without worrying about breaking and damaging your aligners. Just remember to clean your teeth before putting them back in. Then you're good to go!
Easy Cleaning
You should be cleaning your trays regularly, but don't worry. It is a simple process. When you brush your teeth, also brush the trays gently with your toothbrush. Rinse with lukewarm water and then put them back in.
They're Practically Invisible
Many people, especially older teens and adults, are less motivated to get braces because of the obvious appearance in their mouth. Whenever you talk or smile, everyone can see them. This is not the case with Invisalign. They are made from a clear material which makes them difficult to spot. No one will even know that you're wearing them.
Invisalign Is Affective
Invisalign can fix all sorts of alignment issues. When worn properly, aligners can correct minor, moderate, and some severe problems. Most of the time, Invisalign is used for correcting overbites, gapped teeth, underbites, and other issues.
There's no better time to start your Invisalign treatment than this summer! To find out if you make a good candidate for the treatment, schedule a consultation with your dentist. You'll have a straighter smile in no time!
About the Author
Dr. Carol F. Morgan is an experienced dentist who has been working in the field for more than two decades. She earned her dental doctorate from the Medical College of Virginia School of Dentistry. Currently, she is a proud member of numerous professional organizations, including the American Academy of Cosmetic Dentistry, the International Association of Orthodontics, and the American Dental Association. To learn more about Invisalign or to schedule an appointment at her office in Virginia Beach, visit her website or call (757) 412-1400.