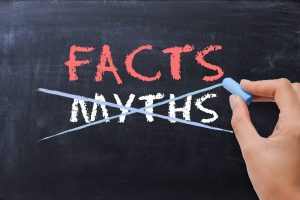 Traditional bridges and dentures aren't the only methods of replacing lost teeth. 500,000 Americans are choosing dental implants because they are nearly perfect replicas of real teeth. You have probably heard a lot about their benefits, but some of the information may also raise some concerns. Don't let common dental implant myths stop you from completing your smile. Here are the facts behind 4 misconceptions.
Myth #1: Dental implants are too expensive.
Fact: Dental implants are the most cost-effective.
Dental implants are associated with a hefty price tag, but they are the most cost-effective overall. Unlike traditional prosthetics, dental implants can last for 30 years or more with the proper care. Not to mention, they stop common issues caused by missing teeth to reduce your long-term oral health expenses. You can keep a beautiful smile affordable using your dental insurance and various payment options, like 3rd party financing.
Myth #2: I'm too old for dental implants.
Fact: There isn't an age limit for dental implants.
Age doesn't determine your candidacy for dental implants, so you don't need to worry about being too old. Instead, your implant dentist considers your oral and general health. Older patients are associated with certain medical conditions or take medications that can complicate your procedure. Your dentist will create a safe, effective strategy to rebuild your smile with dental implants.
Myth #3: Dental implants have a high failure rate.
Fact: Dental implants have over a 95% success rate.
A dental implant is the most reliable method of replacing a missing tooth. The risk of dental implant failure is less than 5%, which is often caused by a preventable infection called peri-implantitis. You can safeguard your investment with a solid oral hygiene routine at home and routine preventive dental appointments.
Myth #4: Dental implants need to be replaced often.
Fact: Dental implants can last for decades.
Your dental implants should never need replacing with the proper care at home and from your dentist. They are proven to last for decades. Various factors affect the lifespan of your new teeth, like your oral hygiene and lifestyle. The location of the implant can affect its life expectancy. Molars can have a slightly shorter lifespan because they undergo more wear and tear than front teeth. Limiting hard, chewy, or sticky foods will help you get the most out of your new smile.
A dental implant provides superior results because it is the only method to rebuild both the root and crown. Don't settle for anything less than the best. Visit your dentist to get the facts you need to achieve the confident, functional smile you deserve.
About Dr. Carol F. Morgan
Dr. Morgan earned her dental degree from the Medical College of Virginia School of Dentistry and achieved her certificate in Advanced General Dentistry. She is a member of various professional organizations, including the American Dental Association. If you are ready to treat your tooth loss, contact our office today to request your consultation for dental implants.