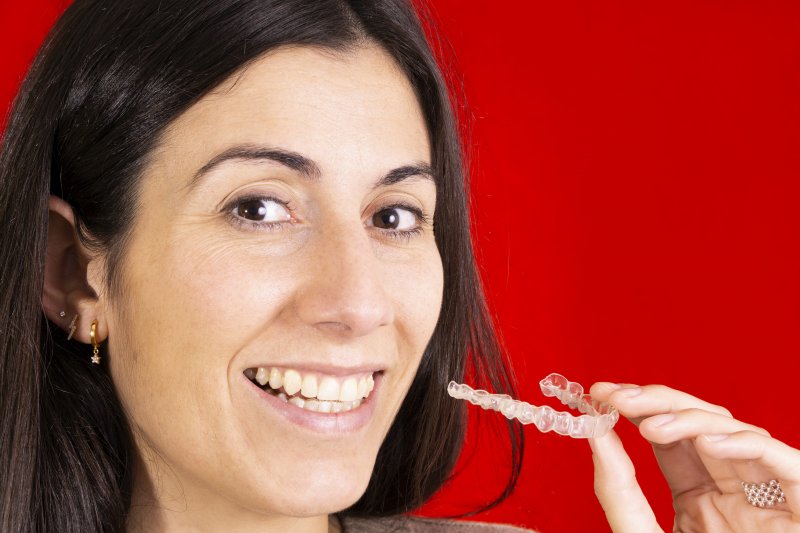 As you age, you may find yourself with more dental restorations in your mouth. Some common ones include crowns, veneers, and dental bridges. While these all serve their purpose when it comes to keeping your smile healthy and aesthetically pleasing, you may be wondering it they will get in the way of the Invisalign in Virginia Beach that you've been wanting. Continue reading to learn how each of these restorations could affect orthodontic treatment.
Invisalign with Dental Crowns
Getting traditional metal braces when you have dental crowns can be a little bit of a challenge. Your dentist would need to potentially use different adhesives and even check to see if your tooth is strong enough to endure the pressure of orthodontic treatment. Because of this, Invisalign can be a great option for those who have crowns. This method doesn't use any adhesives to fix anything to the teeth and it will not interfere with eating or drinking because it is removable. Invisalign isn't an option for everyone, but if your dentist deems you to be a good candidate, it can be a great solution for misalignment.
Invisalign with Dental Bridges
Bridges are fixed into place and cover some of your natural teeth, so it may not be able to receive traditional orthodontic treatment if you have one. If too much force is applied to it, it can be damaged. However, if your misalignment issues aren't severe and don't require the supportive teeth to be moved, this could be a solution. Otherwise, you may need to have a new bridge placed after your treatment.
Invisalign with Porcelain Veneers
It is very difficult to attach metal brackets to porcelain veneers. When they do manage to be fixed together, there is still a risk that the bracket could damage the smoothness of the veneers, therefore causing damage. Invisalign is usually a much better option if you are hoping to straighten your teeth while you have porcelain veneers. The presence of the veneers does not affect the tooth movement and there is little risk for damaging the veneers because the aligners are not fixed to the surface of the tooth.
Most of the time, porcelain veneers are placed after Invisalign treatment. They are placed to make your smile appear a certain way, so moving your teeth afterwards can change this. However, if you're prepared for these changes, this can be a great option.
Just because you have previous restorations does not mean that you are unable to receive Invisalign treatment. This all depends on your individual case. By talking to your cosmetic dentist in Virginia Beach, you will be able to work together to make a treatment plan that's right for you.
About the Author
Dr. Carol Morgan is an experienced dentist who has been practicing for nearly 25 years! She is a Fellow of the esteemed Las Vegas Institute for Advanced Dental Studies and a member of numerous professional organizations including the American Academy of Cosmetic Dentistry, International Associations Comprehensive Aesthetics, and the International Association of Orthodontics. For more information on Invisalign or to schedule a consultation, visit her website or call (757) 412-1400.