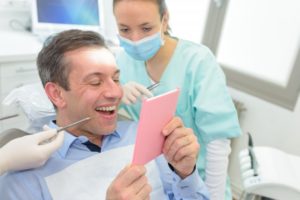 Hundreds of thousands of implants are used each year to replace missing, broken, or damaged teeth. While the U.S. National Library of Medicine confirms that the success rate is phenomenal (roughly 90% – 95%), there are some complications that can occur. Although rare, some patients report noticing a small gap in between their new tooth and their gums following the procedure. If you have noticed something similar, here is everything you need to know about why this happens and how you can fix your dental implants in Virginia Beach.
Why Is There a Space Between My Dental Implant/Crown and My Gums?
Implants and dental crowns in Virginia Beach are used to repair dental issues like a broken or missing tooth. While the approaches are different, each of these treatment options can be used to effectively handle a dental emergency that requires a crown or implant. However, they are also similar in that they can leave a small gap between the tooth and the gums. Although rare, this can occur:
If the implant was not placed properly.
If the gums recede.
If the crown is over 10 years old.
How Do I Get It Fixed?
While you may not notice it at first, the abnormal space can trap food and cause irritation. Like any dental issue, it is important to make your dentist your first call. Your dentist can take care of the problem well before it becomes a more serious issue. After calling your dentist, you can:
Schedule a follow-up visit for a dental exam and inspection of the implant/crown in question.
Obtain an X-ray for a deeper look at what could be causing the problem.
Receive a diagnosis of what is causing the issue (poor fit, receding gums, etc.).
Have the implant/crown replaced to fill in the space between the gum and your tooth.
Having a space between your gums and implant/crown can cause both physical and cosmetic issues. To restore your smile and relieve your discomfort, give your dentist a call as soon as possible!
About the Author
After graduating Magna Cum Laude from the Medical College of Virginia School of Dentistry, Dr. Morgan joined the team at Hampton Roads Center for Cosmetic Dentistry (where she has been practicing for over two decades!). Backed by her extensive education and impressive experience, Dr. Morgan helps patients in Virginia Beach achieve a smile they love in a warm, welcoming environment. If you or a loved one has an issue with a dental implant or crown, you can get in touch with her through her website or give her a call at 757-412-1400.