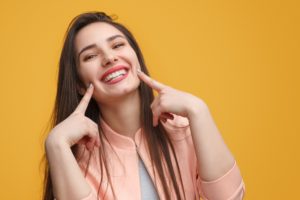 Everyone deserves to feel confident when they smile. Unfortunately, many people are embarrassed by their unattractive teeth. If you're self-conscious about your smile, porcelain veneers may be an option for you. The thin shells are bonded to the front surfaces of your teeth to instantly hide a variety of cosmetic concerns, like chips or discoloration. Although you're excited to transform your teeth, you're concerned about your alignment issues. In some cases, veneers can make your smile appear straighter, but if your orthodontic problems are complex, your dentist may recommend Invisalign in Virginia Beach prior to applying your veneers.

What are Porcelain Veneers?
Veneers cover the front surfaces of your teeth to improve their color, size, shape, and proportion. Porcelain allows them to be thinner to keep more of your enamel intact during the bonding process. This makes the procedure minimally invasive while creating natural-looking results. Their versatility allows them to correct several imperfections at once, such as:
Tooth discoloration
Chipped or fractured teeth
Shorter than average teeth
Abnormally shaped teeth
Minor alignment issues
Do I Need Braces Before Veneers?
Your individual orthodontic needs will determine if you need braces before receiving your veneers. People who have minor alignment issues may not need braces. In fact, veneers can make your teeth appear straighter by closing gaps and covering minor imperfections without spending months wearing braces.
If you have significantly overcrowded, tilted, rotated, or gapped teeth, your cosmetic dentist in Virginia Beach will recommend you get braces first. Although you may need to wait a bit longer for your veneers, it is time well spent to achieve the smile of your dreams. Don't worry, you can skip the hassle of traditional braces to enjoy a nearly invisible solution with Invisalign.
What is Invisalign?
Invisalign is an FDA-approved orthodontic treatment that uses clear plastic aligners to reposition the teeth instead of brackets and wires. A series of aligners apply consistent pressure to your teeth to improve their alignment. Since they are clear and removable, you'll enjoy a convenient and discreet solution. In fact, people may not even notice you're wearing them.
It's recommended you wear the aligners for at least 22 hours per day. You'll switch to the next one in the series after about 1 week. On average, it takes 12 months to finish the series, but the duration of your treatment depends on the complexity of your orthodontic needs.
Get a Beautiful Smile Today
Don't let your crooked teeth stop you from getting the smile of your dreams. Your cosmetic dentist will create the customized treatment plan you need to invest in your confidence.
About Dr. Carol Morgan
Dr. Carol Morgan earned her dental degree from the Medical College of Virginia School of Dentistry in 1995. She regularly continues her education is many areas of advanced care, like cosmetic dentistry. Dr. Morgan uses her qualifications and passion for dental health to help her patients achieve healthy, beautiful smiles. Contact our office today to schedule your consultation for porcelain veneers.