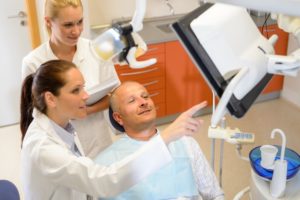 Everybody's smile has great potential, but sometimes it seems like you have to go through trials and tribulations before you can get a grin you're proud to show off. When you think of straightening your teeth, the first thing that pops into your mind is the cumbersome look of traditional metal braces. You don't want to have to sacrifice your professional appearance for orthodontic treatment, and you don't have to! Read on to learn whether Invisalign in Virginia Beach is the right choice for you.
What is Invisalign?
Invisalign is a modern orthodontic solution that lets you straighten your teeth without looking like you're undergoing treatment. Through a series of custom-crafted aligners made from FDA-approved smooth, durable plastic, your teeth will be gently and strategically shifted into their ideal positions. Not only are the aligners clear, but they're also removable, which allows them to offer patients a laundry list of benefits that traditional braces can't.
What are the Benefits of Invisalign?
Whether you're an adult or a teen, Invisalign is a great choice for patients who want to improve the appearance of their grin while avoiding the wires and brackets. One reason patients commonly choose Invisalign over other orthodontic treatments is because the aligners are practically unnoticeable since they're clear in appearance. Some additional benefits that aligners offer that traditional braces can't include:
Improved comfort because you won't have to worry about irritating your gums and cheeks.
Easier to maintain your oral health because they're removable.
Enjoy all the foods you normally would, just take out your aligners before you eat.
Shorter treatment times.
Improved cleanliness because they're easier to sanitize.
If you have a special night planned, you can simply take out your aligners for an hour and reinsert them when it's over. There's no need to change up your daily life for your orthodontic treatment, and you don't have to with Invisalign aligners.
Are There Alternative Options to Straighten Your Smile?
Do you need a straighter smile but don't have the time to undergo Invisalign treatment? Porcelain veneers are a one-stop-shop to conceal a variety of cosmetic issues including teeth that are chipped, cracked, severely stained, misaligned, as well as gaps in your smile. They utilize thin, strong shells that are custom made to fit over the visible portion of your teeth to make your smile even and symmetrical. Over the course of just a few visits to your cosmetic dentist, you'll have a photo-ready smile for any upcoming special occasion.
The best way to figure out what treatment option is the best choice for you is to schedule a visit with your cosmetic dentist in Virginia Beach. Uncover your smile's potential by turning it into one of your new favorite traits!
About the Author
Dr. Carol Morgan has been crafting beautiful smiles since 1995. At Hampton Roads Center for Cosmetic Dentistry, she emphasizes providing individualized, state-of-the-art care to everyone that walks through her doors. She is also a fellow of the Las Vegas Institute for Advanced Dental Studies and helps her fellow dentists sharpen their cosmetic dentistry skills. For questions or to schedule an appointment, visit her website or contact 757-412-1400.