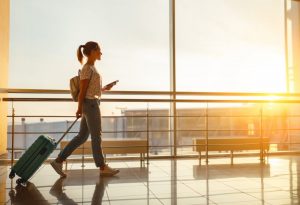 Packing for a trip can be a bit stressful because you always feel like you are forgetting something. As you are going through your mental checklist – or your written one to be safe – be sure to account for your Invisalign trays!
After all, you need to maintain daily wear for 22 hours to keep your teeth on course for their successful shifting. As opposed to being home, there are a few more considerations when traveling with Invisalign. Keep reading to learn some tips for toothcare when you hit the road.
Prepare a Kit of Essentials for Your Trip
To keep up your oral health, don't forget these items on road trips:
Next set of aligners: If your trip is going to last multiple weeks, you will most likely need to change your aligners out
Invisalign case: Keep tabs on your current aligners every time you take them out for meals, plus you can store your next set in the case, too
Travel toothbrush: Bring more than one toothbrush and keep them in convenient places so that it's no trouble for you to clean your teeth after eating and drinking and before you put your aligners back in
Floss: Cleaning between your teeth once every evening is a necessity no matter who you are
Mouthwash: Rinsing is an effective way to clear any food debris your toothbrush can't reach
Keep Up Your Routine
It's good to leave most of your responsibilities behind on vacation, but don't let that carry over to your oral health. Try to brush after every meal and floss before bed.
A benefit of Invisalign treatment is you can eat or drink whatever you want while your aligners are out. Just remember to put them back in promptly. When you need to wear them for 22 hours of a 24-hour day, it doesn't leave you enough leeway to forget about your aligners after a meal.
Is the Tap Water Safe to Drink?
It depends on where you travel to, but you may need to be careful about the water supply you are using to brush your teeth. Obviously, you'll try to figure out if you can drink the water, but if the answer is "no," then you should not brush or rinse with it either.
To play it safe, stick to using bottled water to wet your toothbrush. Plus, you'll want to carry the bottle with you everywhere you might be eating so that you can brush your teeth while on the go.
Checking in with Your Dentist Before the Trip is Wise
If you have a substantial trip coming up, it's a good idea to make a pre-trip dentist appointment. They can offer advice to help ensure your treatment plan carries on smoothly while you are away.
It will take a bit more effort, but it pays dividends to maintain your Invisalign treatment while on vacation. Your progress won't be stalled, and you can remain on schedule to earn the perfect smile you seek! Now that you'll definitely remember all your oral care accessories when packing, just be sure not to forget some extra pairs of socks, too, because you never know what can happen.
About the Author
Dr. Carol Morgan graduated Magna Cum Laude from the Medical College of Virginia School of Dentistry. She has numerous professional memberships including one in the International Association of Orthodontics. If you are considering starting Invisalign treatment or prepping for an out-of-town adventure, Dr. Morgan can help ensure you are prepared to succeed in your pursuit of a straight smile. To schedule an appointment, visit her website or call (757) 412-1400.