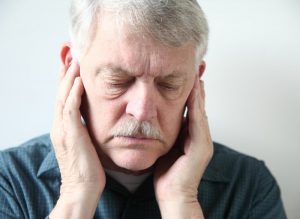 The TMJ (temporomandibular joint) is located just in front of the ear lobe. Its job is to open and close the mouth and move the jaw in multiple directions. Because of its dynamic motion, the TMJ can become irritated and painfully inflamed, which is referred to as TMD (temporomandibular disorder). If you're dealing with TMD pain, here are 9 exercises you can perform to help get some relief.
#1 – Relaxed Jaw Exercise
To perform this exercise, rest your tongue gently at the top of your mouth behind your upper teeth. Slowly move your teeth apart while relaxing your jaw muscles.
#2 – Goldfish Exercises (Partial Opening)
The goldfish exercise involves placing your tongue on the roof of your mouth and one finger in front of your ear where the TMJ is located. Then, put your middle finger on your chin, drop your jaw halfway and close it.
#3 – Goldfish Exercise (Full Opening)
When performing the full opening version of the goldfish exercise, follow the same process as outlined previously. The only difference is that this time you'll open your jaw as far as you can. Keep in mind that these exercises are designed to be done in sequential order, so don't skip the first step.
#4 – Chin Tucks
With your shoulder blades retracted and chest up, pull your chin straight back toward your neck, creating a sort of "double chin" effect. Hold for three seconds and then repeat 10 times.
#5 – Resisted Opening of the Mouth
The resisted opening exercise starts with placing your thumb under your chin. Next, open your mouth slowly, pushing gently against your chin for resistance. Hold this position for three to six seconds, and then close your mouth carefully.
#6 – Resisted Closing of the Mouth
Squeezing your chin with your index and thumb with one hand, close your mouth as you place gentle pressure on your chin. This will aid in strengthening the muscles that help you chew.
#7 – Tongue Up
Placing your tongue at the roof, slowly open and close your mouth. This will help to strengthen the TMJ and reduce the discomfort.
#8 – Side-to-side Jaw Movement
Placing a ¼ inch object, such as stacked tongue depressors, between your front teeth, carefully move your jaw from side to side. As the exercise becomes easier, increase the thickness of the object between your teeth by stacking the depressors one on top of each other.
#9 – Forward Jaw Movement
With a ¼ inch object placed between your front teeth, move the lower portion of your jaw forward so the bottom teeth are in front of the top teeth. As the exercise becomes easier, increase the thickness of the object between your teeth.
While these exercises can certainly be helpful in recovering from TMD, it's still important to receive professional care from your dentist. Therefore, you can get the effective relief you need and put an end to your pain.
About the Author
Dr. Carol F. Morgan earned her dental degree from the Medical College of Virginia School of Dentistry. An avid learner, she manages to stay abreast of the latest advancements in dentistry by taking several hours of continuing education annually. Highly skilled in occlusion (bite) and TMJ issues, Dr. Morgan helps patients get relief at Hampton Roads Center for Cosmetic Dentistry, and she can be reached for more information or to schedule a visit through her website.