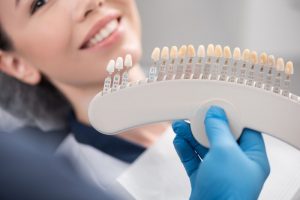 Porcelain veneers do a remarkable job of masking several smile flaws to provide an aesthetically pleasing appearance. However, they don't last forever; the typical lifespan is up 10-15 years. The sooner you recognize any signs of them failing, the quicker you can have your smile revamped. Continue reading to learn when replacing veneers should be a priority.
Common Signs of Wear
The last thing you want is to have an unattractive smile. Thus, it's important to recognize the following signs of wear and tear:
Darkening – Veneers are secured with dental cement. Over time, the compound naturally begins to darken, which affects the appearance of the veneers. The only remedy is replacement.
Chips or cracks – Although veneers are made from durable porcelain, they can become worn over time and chip or crack. Eating hard foods and using your teeth as tools can expedite the veneers' decline.
Tooth decay under the veneer – While veneers aren't subject to decay, the teeth under them are. If your dental care is neglected, the veneers can start to separate and create an unhealthy-looking smile.
Veneers separating from the gums – Dental neglect can also impact the health of your soft tissue and lead to the veneers separating from the gum line.
How to Extend the Life of Your Veneers
With proper care, it's not uncommon for a set of veneers to last up to 20 years. Even better, it doesn't take a complicated series of events to contribute to their longevity. Here's what you can do to get more mileage out of your perfected smile:
Use your teeth properly – Avoid using your teeth to pry open packages or trim your fingernails. Doing so can damage your veneers and possibly cause a dental emergency.
Brush and floss consistently – Make it a habit to brush and floss at least two times a day to control the growth of oral bacteria and tooth decay.
Stay away from tobacco products – Whether smoked or chewed, tobacco products release harmful toxins into your mouth that can negatively impact your oral health.
Wear a mouthguard when playing sports – Any time you're involved in fast-moving sporting events, there's a chance of facial trauma that could damage your veneers.
Visit the dentist on a regular basis – By maintaining consistent dental visits, you can catch any potential issues early or correct bad habits that could lead to damage.
What to Do if Your Veneers are Already Damaged
The typical way to address any damage is veneer replacement. But before the procedure is performed, the dentist will look into the cause of the veneer wear. Therefore, the necessary steps can be made in the future to ensure a longer-lasting and attractive smile!
About the Author
Dr. Carol F. Morgan earned her dental degree from the Medical College of Virginia (MCV) School of Dentistry. She has since gone on to provide over two decades of superb care to the surrounding community. To further fortify her knowledge, Dr. Morgan has received training from the world-renowned Las Vegas Institute (LVI) for Advanced Dental Studies. A member of the American Academy of Cosmetic Dentistry and other professional organizations, she fixes smiles with porcelain veneers at Hampton Roads Center for Cosmetic Dentistry, and she can be reached for more information or to schedule a visit through her website.