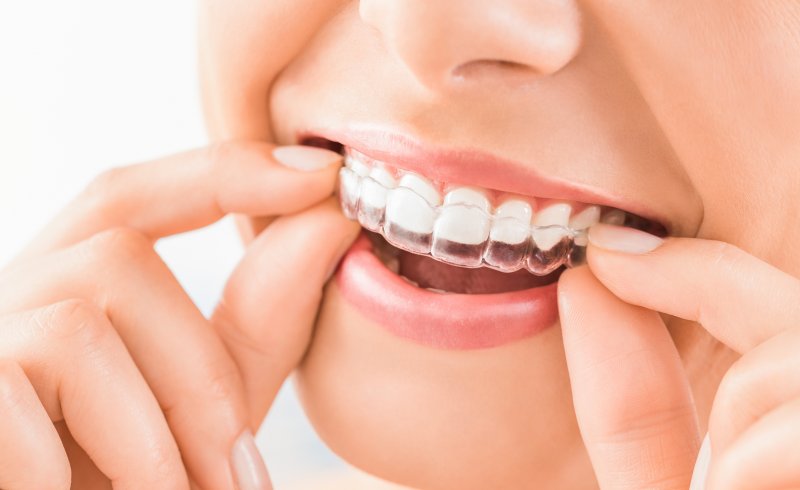 Thanks to modern dental technology, people who want to have a straighter smile no longer have to put up with a mouthful of metal brackets and wires for who knows how long. Invisalign in Virginia Beach is an option, and there are so many benefits to the treatment. You probably already know that you will be needing to wear a retainer after you finish your series of aligners, but for how long? Continue reading to learn more about Invisalign retainers in Virginia Beach.
How Long Do You Need to Wear Your Retainer?
The number of hours you need to wear your retainer and for how long depends on your individual treatment. In general, patients are asked to wear their retainer for 12 to 22 hours each day for 3 to 6 months after completing the treatment. After this point, it is usually recommended that patients wear their retainer when sleeping each night for at least a year. Afterwards, dentists suggest that wearing a retainer a few nights a week is ideal for preventing future movement for the rest of your life.
What Happens If a Retainer Is Not Worn?
Invisalign, as well as other orthodontic treatments, move teeth from their original locations to ones that are more precisely aligned, but this does not mean that they will stay their afterwards. A retainer is worn in order to keep the teeth in place so that patients don't require additional orthodontic treatment in the future. If you stop wearing your aligner too soon, your teeth will begin to gradually shift back to where they were, completely undoing everything you went through during your treatment.
What Can You Expect When You Receive Your Retainer?
Your retainer that you receive after you have Invisalign will look very similar to your clear aligners. However, they are designed a little bit different. Instead of being made to put pressure on the teeth, they are created in order to keep your teeth in place and prevent movement. This way, you won't end up with future misalignment that could have been avoided.
After you complete your Invisalign treatment, wearing your retainer is a lifetime commitment in order to keep your results permanent. Fortunately, you won't need to wear it all the time like you did with Invisalign. With proper care and maintenance, you will be able to show off a straight smile for a long time.
About the Author
Dr. Carol F. Morgan is an experienced dentist who has been working in the field for over two decades. She graduated Magna Cum Laude from the Medical College of Virginia School of Dentistry and is a Fellow of the Las Vegas Institute for Advanced Dental Studies. Currently, she is a member of numerous professional organizations, including the American Academy of Cosmetic Dentistry and the International Association of Orthodontics. For more information on Invisalign or to schedule a consultation, visit her website or call (757) 412-1400.