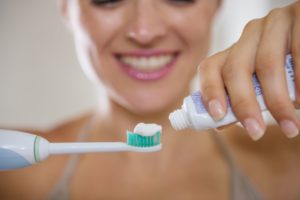 After your dental checkup, do you frequently get to brag about not having any cavities? If so, you might be worried about the COVID-19 pandemic forcing dental offices to close for all appointments except emergency ones. If you're due for your biannual cleaning soon, you may be worried about your oral health. However, there are plenty of ways to keep your mouth clean and healthy until you can see your cosmetic dentist in Virginia Beach again. Keep reading to learn five of them.
1. Brush Enough
Plenty of people brush their teeth twice a day, but they often don't clean them for the amount of time that is recommended by the American Dental Association (ADA): two minutes. Many electric brushes come with built-in timers that let you know how long you've been brushing. If you prefer a manual brush, simply sing the alphabet song in your head twice while you brush.
2. Don't Forget to Floss
Forgetting or neglecting to floss can cause plaque and tartar to accumulate between your teeth, which contributes to bad breath, gum disease, and tooth decay. It helps to set your container of floss down either next to your toothbrush or on top of your pillow. Both options make it harder to forget to floss before bed.
3. Rinse with Mouthwash
There are some parts of your mouth that your toothbrush and floss just can't reach, like a lot of your soft tissues. That's where mouthwash comes in. Rinse with mouthwash either before or after you brush (according to the instructions on the bottle). It will freshen your breath as well as fight cavities and gingivitis.
4. Disinfect Your Toothbrush
Contrary to popular belief, you don't need a toothbrush cover to keep the bristles clean. In fact, the ADA warns against doing so. It can create an environment where bacteria thrive. Keep your brush in an open toothbrush holder instead. Additionally, you should disinfect it once a week, either by boiling it in hot water for five minutes or allowing it to soak in a denture cleaning solution.
5. Clean Your Tongue Too
No matter how well you brush and floss, bacteria may still linger on your tongue and deposit back onto your teeth, which may contribute to oral health issues. To prevent this, you can buy a tongue scraper for cheap. After brushing, run the scraper (or your toothbrush) from the back to the front of your tongue a few times until the entire surface is cleaned. Cleaning your tongue not only improves your breath, but decreases your risk of getting cavities and gum disease.
You might be nervous about your oral health in these uncertain times, which is perfectly understandable. However, if you follow the tips listed above, you should be able to keep your mouth nice and healthy until your dentist opens back up.
About the Author
Dr. Carol Morgan is a dentist in Virginia Beach who graduated magna cum laude from the Medical College of Virginia School of Dentistry in 1995. She is a Fellow of the prestigious Las Vegas Institute for Advanced Dental Studies and has a particular passion for cosmetic dentistry. However, her patients' oral health is always the main priority. If you have any questions about the tips listed in this post, you can contact Dr. Morgan on her website or by calling (757) 412-1400.