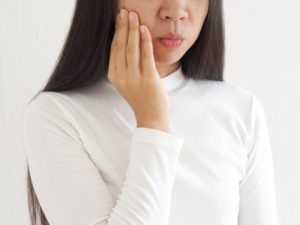 Do you regularly experience pain or discomfort in your jaw? Is it difficult for you to chew sometimes? Do you often have headaches? Such symptoms are all indicative of a malfunction in your TMJ, the joint that connects your lower jaw to the rest of your skull. Such malfunctions, which are often referred to as TMJ Dysfunction or simply TMD, can be chronic, painful, and perpetually frustrating. Neuromuscular dentistry in Virginia Beach can help you to find relief. One treatment that your neuromuscular dentist may recommend is TENS machine therapy. Let's talk about what it does and how it may be able to help you.
What Is a TENS Machine?
TENS is an acronym for Transcutaneous Electrical Neural Stimulation. The machine delivers low-frequency electrical impulses to the muscles that control jaw movement. It does via adhesive electrode pads that your dentist in Virginia Beach will place at strategic positions on or near your face. Because a neuromuscular dentist focuses on correcting problems related to jaw alignment, they know exactly where to place the pads to achieve the greatest effect. As the electrical impulses reach your muscles, they block pain signals to the brain. Hence, you can experience fast relief from TMJ discomfort.
What Happens During TENS Therapy?
After your dentist attaches the adhesive pads to your face and activates the machine, you will feel a tingling sensation. If the tingling is particularly strong or causes you discomfort, let your dentist know so they can adjust the level of stimulation. Once the machine is at a comfortable level, you can relax while it gets to work on blocking pain signals. You will also find that your facial muscles may begin to feel much more relaxed.
How long a TENS therapy session lasts will depend on what your dentist determines is best. Many people experience significant relief after about 30 minutes or so. You might need multiple TENS sessions each week to continue to reap its benefits.
Is TENS Therapy a Permanent Solution?
TENS therapy can be an important part of helping you cope with TMD. However, in most cases, it is not a permanent solution. That is because TMJ problems are often related to defects in the position of the jaw. Such defects may be caused by anatomical abnormalities, poor posture, an improperly aligned bite, or other issues that TENS therapy cannot correct. A neuromuscular dentist will evaluate possible causes of your pain and work to design a treatment that will provide you with permanent freedom from TMD symptoms.
Are you struggling with symptoms of TMD? A neuromuscular dentist who offers TENS therapy may be the best person to help you experience fast pain relief and find a long-term solution to your condition.
About the Author
Dr. Carol Morgan graduated Magna Cum Laude from the Medical College of Virginia (MCV) School of Dentistry in 1995. Since then, she has furthered her education in various ways. She is even a Fellow of the prestigious Las Vegas Institute, which focuses on aesthetic dentistry and neuromuscular dentistry. If you would like to speak to Dr. Morgan about your TMD symptoms, TENS therapy, or anything related to your oral health, contact our office at 757-412-1400.