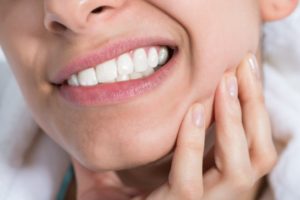 Do you experience pain when you open and close your jaw? You may have TMJ disorder, which is a condition that affects the temporomandibular joints—the part of your body that connects your jaw to your skull. Many people have this issue without even knowing it, which is why November is TMJ Awareness Month! Keep reading to learn more about TMJ disorder, the common signs to watch out for, and how your TMJ dentist in Virginia Beach can treat it!
What is TMJ Disorder?
TMJ disorder occurs when there is pain or dysfunction in the jaw joints and muscles that control jaw movement. The joints that connect your jaw to your skull can become inflamed, which makes it hard to perform normal activities like eating, speaking, and moving the jaw. This is typically caused by injury or overuse from habits like nighttime teeth grinding. Your jaw, head, and teeth are all interrelated, which makes your dentist a great resource for treatment.
How Do You Know if You Have It?
The first step toward a comfortable, functioning, and healthy TMJ is recognizing the common warning signs of this problem:
Tenderness or pain in the jaw
Pain in the temporomandibular joints
Headaches or migraines
Difficulty chewing
Locking jaw joints
Aching pain in the face
You may also experience clicking or a grating sound when you open or close your mouth. While you should still get this problem checked out, if it's not accompanied by pain, you probably won't need TMJ treatment.
How is TMJ Disorder Treated?
Thankfully, your dentist has an effective treatment that can relieve your TMJ. The first step is getting an oral appliance from your dentist. This is a custom-made neuromuscular appliance that holds your jaw in alignment to relieve pain and dysfunction. Worn at night, it also prevents habits like teeth grinding. After about 3 months of wearing it, you'll visit your dentist in Virginia Beach again. They will check your jaw, jaw joints, and smile to see if therapy has alleviated the symptoms you've been experiencing. Sometimes, you may have to get additional treatment if you still feel signs of TMJ.
TMJ disorder is a problem that millions of Americans have, yet many don't even know it's affecting them. That's why during TMJ Awareness Month, it's important to understand and recognize the common signs and symptoms of this issue. So, if you're experiencing any type of discomfort in your jaw, keep this information in mind and contact your dentist for some relief.
Meet the Dentist
Dr. Carol Morgan is dedicated to providing her patients with services that can improve their quality of life, treating much more than just teeth. She understands how commonly TMJ disorder is ignored or misdiagnosed, which is why she's offered up her expertise for TMJ Awareness Month. She currently practices at Hampton Roads Center for Cosmetic Dentistry, and she can be reached through her website or by phone at (757) 412-1400 for any questions.