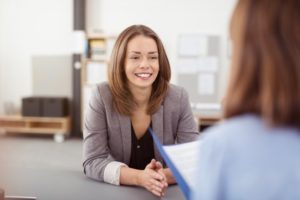 We all know how stressful job interviews can be. You have to have the right outfit and the right attitude, and be ready to answer any questions about your experience. Most importantly, you have to make a great first impression. One way to do that is to smile throughout the interview to appear friendly. However, if you're not feeling great about the way your teeth look, you might not smile as much. Your interviewer probably won't have great things to say if you keep your lips closed the whole time. That's why it's important to feel confident in your smile. Fortunately, a cosmetic dentist in Virginia Beach has these 5 ways to improve your smile for your next interview.
Why Is My Smile So Important?
Studies have shown that people who have white teeth are often perceived as happier, more intelligent, and wealthier. In addition, having a great smile can also:
Boost your self-confidence
Make you seem friendlier
Charm people in the workplace
Cause you to smile more and feel happier
The physical act of smiling releases endorphins that make you feel great. Why not improve your smile so you can get started on being happier and more confident for your next interview? Your dentist in Virginia Beach offers these 5 services:
Cosmetic Bonding
If you have stains, cracks, or chips on your front teeth making you ashamed of your smile, don't worry. Your dentist can fix those up quickly with cosmetic bonding. He or she will apply a composite resin to sculpt the tooth into the desired shape. This material can be shaded to match the color of the tooth. Cosmetic bonding is a great option if you have several flaws in your teeth that you would like to fix with just one visit.
Tooth-Colored Fillings
Cavities damage not only the inside of your tooth, but your confidence in your smile as well. That's why tooth-colored fillings are perfect for fixing both. A dentist will fill your cavities with a material, such as composite resin, that is customized to blend in with the rest of your smile.
Gum Recontouring
Maybe you're worried that your teeth appear too small and your smile is a bit "gummy." You may just have gum that extend farther down the tooth structure, and your dentist can help with that. Using a soft tissue laser can reshape the gum line and reveal more of your teeth. This procedure is smooth and comfortable, and will transform your smile.
Porcelain Veneers
Do you want to perfect all of your front teeth in a single visit? Porcelain veneers might be right for you. Your dentist will remove a thin layer of enamel from the surface of your teeth to make room for veneers, thin sheets of porcelain that are placed over the teeth to hide stains, cracks, or chips. They can even instantly straighten any mildly crooked teeth. Your entire smile will feel beautiful as soon as your appointment is done!
Cosmetic Recontouring
If you have chipped, irregularly shaped, or even overlapping teeth that keep you from smiling, cosmetic recontouring might be right for you. Your dentist can reshape the natural enamel of your teeth that make your teeth appear straighter and more attractive. This can be done in one quick and comfortable appointment.
It's always important to look your best for a job interview, and that includes your smile. By fixing your smile with your cosmetic dentist in Virginia Beach, you can dazzle your interviewer and land the job of your dreams!
About the Author
Dr. Carol Morgan has been practicing general and cosmetic dentistry in the Virginia Beach, VA area for more than 20 years. She is a member of several organizations, including the American Academy of Cosmetic Dentistry and the International Associations Comprehensive Aesthetics. She is also a fellow of the prestigious Las Vegas Institute for Advanced Dental Studies. To learn about how she can help get your smile ready for your next interview, click here or call (757)-412-1400.