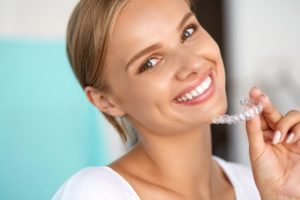 Invisalign treatment offers a way to straighten your teeth without the hassle, irritation, and appearance of traditional braces. However, because Invisalign in Virginia Beach is a newer technology compared to braces, many have questions about the treatment process. Thankfully, your dentist has the answers to some of your FAQs to give you all the information you need before starting on your journey to a beautiful smile.
What is Invisalign Treatment?
Invisalign treatment involves the use of a series of clear trays that gradually shift your teeth into alignment. Your dentist will take special images and impressions of your smile to develop your custom-made aligners. These trays are made out of clear-plastic, making them smooth, comfortable, and discreet.
What is the Process Like?
Your dentist will create a plan that outlines the way your teeth will shift into place. You'll wear each tray for about 2 weeks, changing them out for your next series to continue the aligning process. Your dentist will recommend that you wear your aligners 20 to 22 hours a day, which means you should only take them out to eat and clean them.
How Long Does It Take to Complete?
Invisalign treatment will vary based on the severity of your misalignment, but on average, the treatment will last between 10 and 18 months. This is a faster treatment time than braces and it requires less visits to the dentist's office.
How Should I Eat with My Aligners?
One of the best parts of Invisalign is that they are completely removeable, so you can enjoy all of your favorite foods without worrying about damage to your orthodontics or getting food stuck in your smile. Just be sure to brush your teeth before putting your aligners back in.
How Should I Care for My Aligners?
It's important to keep your clear braces in Virginia Beach clean to avoid developing dental issues that can affect your treatment or staining the clear plastic. You can clean your aligners by using a nonabrasive toothbrush and clear soap with room temperature water. Be sure to avoid using hot water because it could warp the plastic, affecting the shape of your aligning trays.
Am I a Candidate?
The best way to know if Invisalign is right for you is to visit your dentist in Virginia Beach. They will carefully examine your bite, smile, and oral health. Most candidates have mild to moderate misalignment and are committed to wearing their aligners as necessary.
Does it sound like you could benefit from Invisalign treatment? Schedule an appointment with your dentist to get started on boosted confidence with a beautifully straight smile.
Meet the Dentist
Dr. Carol Morgan is an experienced dentist with a passion for helping her patients smile. She takes pride in staying up-to-date with the latest techniques and equipment through continuing education courses. She currently practices at Hampton Roads Center for Cosmetic Dentistry, and she can be reached through her website or by phone at (757) 412-1400 for any questions.