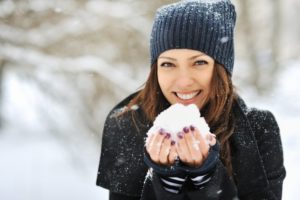 Whether it's with friends, family, or even at work, it seems like everyone wants a good holiday picture. However, this is a problem for those who are self-conscious about their smile. If you have flaws in your smile, you're not alone. Many people don't grin for photos or avoid them altogether because of their smile's appearance. Keep reading to learn how cosmetic services like teeth whitening in Virginia Beach can give you a bright and merry smile for the holidays.
Teeth Whitening
Did you know that over 80% of Americans wish they had whiter teeth? That's why teeth whitening has become one of the most popular cosmetic services. If you look at your smile and see stains or discoloration, professional teeth whitening can make your smile up to 10 shades brighter! Your dentist will use a strong and safe whitening gel to deliver you a dazzling grin prepared for any holiday card.
Cosmetic Recontouring
If you have irregularly shaped, overlapping, or chipped teeth, you could definitely benefit from cosmetic recontouring. In just one quick and easy visit, your cosmetic dentist in Virginia Beach can sculpt tiny bits of your natural enamel to create a beautifully uniform smile. This simple procedure can give you a much straighter and more attractive set of pearly whites that are ready when the cameras start flashing for the holidays.
Porcelain Onlays
Some teeth decay to where they don't need a full crown, but they are too damaged for a filling. That's where porcelain onlays come into play. These custom-made pieces of dental porcelain offer an option to strengthen and revitalize your teeth, while keeping them looking great at the same time.
Gum Recontouring
When you look at your smile do you see too much gums? Or maybe your teeth look short? Your gums probably extend down a little too far, but no need to worry, your dentist can use a soft tissue laser to reshape them. This will reveal more of your teeth for a fuller smile.
Cosmetic Bonding
Do you have small chips, stains, cracks, or gaps in your smile? It's strange how little imperfections can throw off the look of your smile, right? Thankfully, cosmetic bonding offers a way to get rid of these flaws in one quick visit. Your dentist uses composite resin to sculpt and build up the damaged or affected tooth. After, they'll polish it to match your natural teeth for an amazing smile.
Does it sound like you could benefit from any of these services for the holiday season? Contact your dentist to get started on a perfect smile so you can have a white Christmas whether it snows or not.
Meet the Dentist
Dr. Carol Morgan is an experienced dentist who loves providing personalized care to her patients. She takes pride in offering cosmetic services that boost her patients' confidence and self-esteem, especially around the holidays. She currently practices at Hampton Roads Center for Cosmetic Dentistry, and she can be contacted through her website or by phone at (757) 412-1400 for any questions.