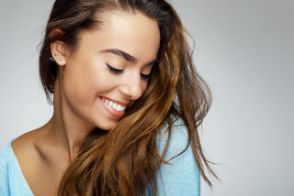 Did you know that people who have a beautiful smile are perceived as more attractive, likable, intelligent and even younger than those who don't? Clearly, a great smile can have a huge impact on both your personal and professional life. But don't give up hope if you weren't born with the smile of your dreams! In this blog, you'll learn about 8 ways to transform your smile, including some of the most popular cosmetic treatments that a cosmetic dentist in Virginia Beach might recommend. Find out more below!
1. Whitening
Whitening is incredibly popular because it provides big results for a relatively small investment of time and money. You have several options for brightening your teeth from 6-10 shades:
Zoom! – This option is done in just one visit, so it's fantastic for anyone who wants their results immediately.
Zoom! Take-home pen – This is great for on the go touchups and is a wonderful way to maintain your results after a whitening treatment.
Take-home trays – This option provides results more gradually – usually in about 2 weeks of wearing your trays for 30-60 minutes each day.
2. Dental Crowns
If you aren't happy with the way some of your teeth look because they've been badly damaged by large cavities or fractures, a dental crown might be the perfect solution. A crown not only gives your tooth a whole new appearance, but it also restores its strength.
3. Dental Implants
If you're one of the millions of Americans who have lost one or more of your teeth, dental implants are a fantastic way to replace them. Implants look, feel and function more like your own teeth than anything else and can last many decades with basic care.
4. Invisalign
Instead of using brackets and wires like traditional braces, Invisalign relies on clear plastic trays to move your teeth into position. This option offers several advantages over braces:
The trays are removable, so it's much easier to brush and floss
Shorter treatment time (an average of 6-18 months instead of 24)
Dramatically improved comfort
No dietary restrictions
5. Porcelain Veneers
Porcelain veneers are thin, strong "shells" that are adhered to the front of the teeth to give them a whole new appearance. They're perfect for a wide variety of flaws, including chips, gaps, minor crowding, severe staining and small or misshapen teeth.
6. Cosmetic Bonding
Cosmetic bonding involves using white filling material (the same material used for white fillings done on back teeth) to repair small imperfections on the front teeth. It's great for small chips, cracks, cavities and discolorations.
7. Maintain Good Oral Hygiene Habits
Your smile has to be healthy before it can be beautiful! And while your brushing and flossing habits don't have to be perfect, they should be as consistent as possible to help your teeth and gums look their best.
8. Get Regular Checkups
Regular checkups are important for several reasons. In addition to getting a professional cleaning, a dentist can catch any potential problems when they're small and easier to fix.
Checkups are also an opportunity to ask a dentist in Virginia Beach about the best cosmetic procedures to enhance your smile. After assessing your dental history, goals, and budget, they can determine the best way to help you get the smile you've always wanted (and the self-confidence that goes with it!)
About the Author
Dr. Carol Morgan is a general and cosmetic dentist in Virginia Beach who always closely evaluates each patient's needs to create the best treatment plan for them. Whether it's a simple whitening procedure or a complete smile makeover, she can help anyone achieve the smile of their dreams. If you have any questions, she can be contacted via her website or at (757) 412-1400.