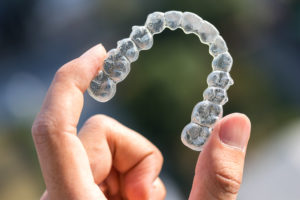 If you experienced wearing metal braces as a tween or teenager, you probably remember the day when they finally came off. No more awkward class photos! No more avoiding some of your favorite foods and snacks! However, after the braces come off, the retainer comes in – and here is where too many straight smiles get lost. Teeth can shift over time back to their original positions, especially if retainers are not worn as directed. But don't worry – if you wore braces in your youth but are unhappy with your misaligned smile today, you will be happy to know that a second round of braces is not your only option. Continue reading below to learn about Invisalign in Virginia Beach, a modern solution to discretely but effectively improve your smile.
What is Invisalign?
Unlike conventional braces that rely on wires and metal brackets, Invisalign clear braces use a series of transparent, custom-made aligners to slowly move teeth into the desired position. Patients typically wear each set of aligners 22 hours per day, taking them out only to eat and brush their teeth. After 1 to 2 weeks, the aligners are exchanged for the next pair in the series. Each new Invisalign set puts gentle pressure on specific points in the mouth to gently shift teeth until your smile looks fabulous and straight!
Can I Use Invisalign to Straighten My Teeth – Again?
As a working adult, wearing conventional metal braces may be a non-starter due to their awkward and unsightly appearance. Fortunately, Invisalign clear braces offer a discreet solution for straightening mild to moderately crooked teeth, even for adults. Invisalign offers several important advantages compared to conventional braces, such as:
Invisibility – Invisalign aligners are made to be clear and fit snugly over your teeth, meaning that friends, co-workers and even family members will have a hard time noticing when you are wearing them. All they will see is your beautiful smile!
Greater Comfort – Invisalign offers greater comfort than traditional bracket and wire braces, which can irritate the soft tissue inside your mouth and cause tooth sensitivity.
Removable – Invisalign trays are easily removed, so you can continue to eat all your favorite foods and brush your teeth normally.
Time-saving – Invisalign clear braces require fewer trips to the dentist compared to conventional braces, which must be adjusted by an orthodontist frequently. In addition, Invisalign treatment overall typically lasts 8 to 18 months –significantly less than traditional braces.
Fixing the imperfections in your smile as an adult does not require a second round of metal brackets in your mouth. Talk to a cosmetic dentist in Virginia Beach about how Invisalign can help straighten your smile without interrupting your daily life!
About the Practice
Dr. Carol F. Morgan has been helping patients in the Hampton Roads area achieve the smile of their dreams for over 20 years. A fellow of the prestigious Las Vegas Institute for Advanced Dental Studies, Dr. Morgan has considerable expertise in cosmetic dentistry. If you are interested in learning more about Invisalign, contact Dr. Morgan through her website or by calling the office at 757-412-1400.