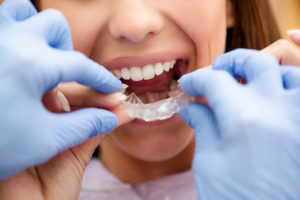 Many men and women who consider straightening their smile through braces or Invisalign do so because they are tired of feeling panic or embarrassment every time someone grabs the camera at a party or family gettogether. However, in addition to giving you a confident, attractive smile, you may be surprised to learn that straighter teeth can also benefit your health! If you are curious to learn how Invisalign in Virginia Beach is about more than just good looks, you have come to the right place.
How Straight Teeth Are Linked to Good Health
It is no secret that oral health is closely linked to your overall health. In fact, research conducted by the American Dental Association shows that oral infections can lead to other more serious ailments such as diabetes, stroke, heart disease and pneumonia. Many people, however, do not associate cosmetic dentistry such as braces or Invisalign with having health benefits – but it's true!
Here are a couple of ways in which straighter teeth can benefit your health:
Easier Cleaning – Crowded or crooked teeth can be very difficult to properly clean, allowing plaque and tartar to build in the nooks and crannies in your mouth. Left untreated, plaque and tartar can eventually lead to gum disease and tooth decay. By making it easier to follow proper oral hygiene routines like flossing, straight teeth contribute to better health.
Reduced Risk of Jaw Trouble – A misaligned bite not only strains your teeth but also puts stress on the joints of the jaw, which can cause jaw pain, dizziness, earaches, and headaches. Correctly aligned teeth can alleviate these painful orthodontic jaw issues.
How Invisalign Provides a Healthy AND Beautiful Smile
Invisalign in Virginia Beach is a modern solution for men and women seeking to improve their smile. Unlike traditional braces that rely on wire and metal brackets, Invisalign uses sets of custom-made, transparent plastic aligners that slowly move your teeth into the desired position.
Each set of Invisalign aligners is worn for approximately 1-2 weeks before being replaced by a new, slightly tighter set that puts pressure on your teeth to slowly shift to match the aligner. Individuals should wear their aligners for about 22 hours each day – but don't worry, they are designed to be easily removable so you can continue eating meals and brushing and flossing like normal.
While the length of Invisalign treatment varies depending on the unique individual, most patients achieve the beautiful, straight and healthy smile they have always wanted within two years of starting treatment.
If you are interested in learning more about how Invisalign can improve your oral health and help you achieve the confident smile you desire, talk to your dentist in Virginia Beach today.
About the Author
Dr. Carol Morgan, DDS has been providing state-of-the-art dental care and creating beautiful, confident smiles in the Hampton Roads area for over 20 years. She received her Doctor of Dental Surgery degree from the Medical College of Virginia School of Dentistry – where she graduated Magna Cum Laude – and is a fellow at the prestigious Las Vegas Institute for Advanced Dental Studies, a post-graduate training facility that trains dentists in cosmetic dentistry. Dr. Morgan can be reached online or by phone at +1 757-412-1400.